Rowing in Motion App 2.0.1 and Analytics Update
Posted on:
July 10, 2014
/
This release adds some minor features to the Apps and Analytics. This release is now available for download on the AppStore and Google Play.
App
Similar to the detection of bad calibration introduced in the previous release, the App can now also automatically detect situations where the device picks up too much vibration to sensibly measure boat acceleration and stroke rate. These two features should help eliminating most mounting related problems.
Coaches can now choose the video resolution for recording Rowing in Motion Videos: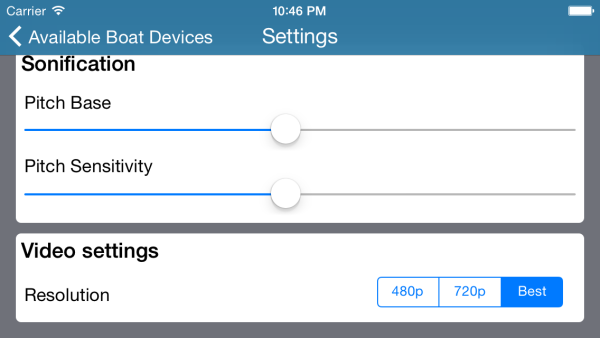 The "best" setting uses the maximum available resolution of your device. This is 1080p on most newer devices but may be the same as 720p on older devices. Choosing a lower video-resolution usually means you can store more videos on the device, since the resulting files are much smaller. An additional consideration is the loss in image quality due to the high compression ratios required for higher resolutions. Depending on your device, a lower resolution may result in better image quality despite the reduction in video resolution.
We've also made some improvements to our user guide in the App. The guide for the most recent version of the App is also available online at http://docs.rowinginmotion.com.
Analytics
We've added speed to the metrics calculated for a typical strokes, so you can not only compare the acceleration profile but also the associated speed.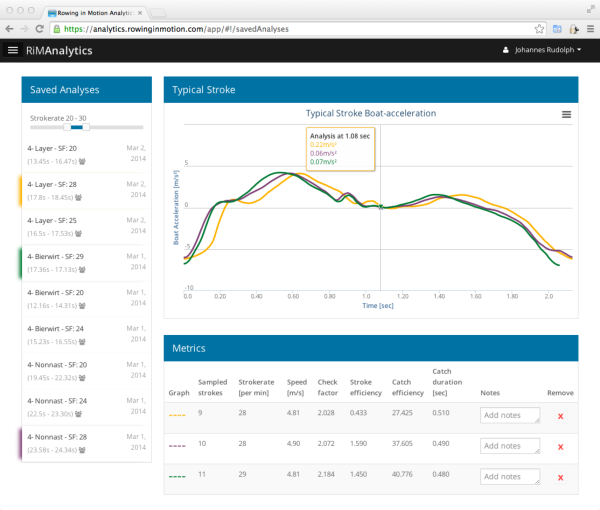 The speed is calculated based on the distance covered for the selection that was used to calculate the typical stroke.