Feedback when and how you need it!
Our App captures realtime sensor data in the rowing boat, from the sensors inside the smartphone as well as any connected external sensors. It provides athletes with realtime feedback on important data like stroke-rate, speed and distance. Different screens give athletes adequate feedback in every situation, from technique training to racing.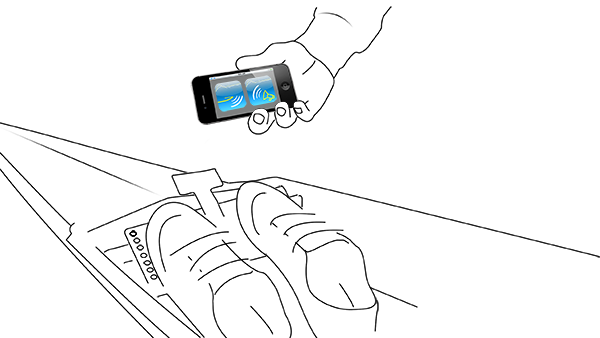 How it works
The Rowing in Motion App tracks the precise movement of the rowing shell using the sensors integrated into a smartphone mounted on the rowing shell. The App uses two main kinds of sensors, an accelerometer and GPS. If available, the App can also use a builtin Gyroscope and Magnetometer to improve the accuracy of measurement data.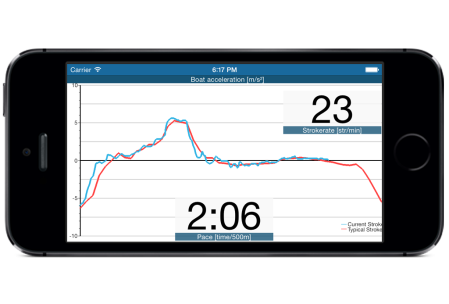 Analyzing boat acceleration is at the core of Rowing in Motion. Because it directly reflects the sum of all forces acting on your boat, it gives you a clear indication about the effectiveness of your stroke and how you can row more efficiently. Learn how to optimize your stroke with Rowing in Motion.
The accelerometer measures acceleration, i.e. the instantaneous change in speed of the rowing shell whereas the GPS tracks absolute position of the boat. Because the rowing stroke follows a cyclic pattern, the App can use acceleration data to derive stroke-rate and a few other interesting metrics without requiring a sensor under the sliding seat. Using GPS information supported by data on boat movement, the App calculates speed and distance.
All of this data is processed live and in realtime on the device.
Recording and Analyzing Data
Of course you can record all measurement data in the App. Because the App is always linked to your Analytics account, you can seamlessly upload and analyze your rowing session right on your smartphone or a table after you've pulled your boat back on the dock. Or you can perform detailed analyses on your laptop or PC anytime.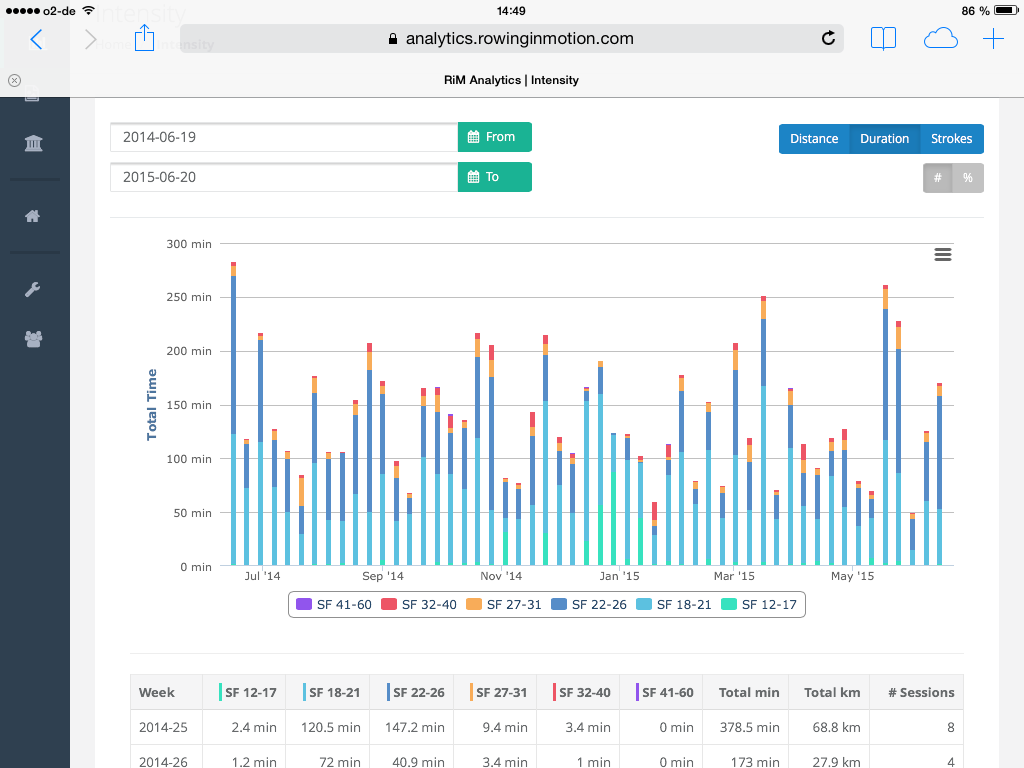 Contrary to other measurement systems, the capacity to record your rowing session at full precision is practically unlimited with Rowing in Motion on a modern smartphone. For example, a recording of typical 90 minute rowing session takes only between 3mb and 4 mb of space. Learn more about recordingand analyzin data.
Work with your Coach
Your coach can run the Rowing in Motion App too and get a realtime stream of the measurement data recorded in the boat. The Apps use a mobile WiFi for communication that is provided by an Access Point from either the coaches motorboat or you can put it in the rowing boat too. Learn more about Rowing in Motion for Coaches.
Supported Hardware
The Rowing in Motion App requires a device running at least iOS 9 or Android 4.0. For athletes, we provide the same features on both platforms and release updates simultaneously.
Your device must have a GPS and an Accelerometer. Not all devices have GPS, e.g. the iPod and WiFi only iPads have none. Without GPS, all related functionality (speed, distance, location) will not be available in the App. Having a Gyroscope or Magnetometer is optional, the App can use them to refine measurements but the improvement of measurement accuracy is marginal.
A live internet connection is not required to use Rowing in Motion (once you have linked it to your Analytics account, which is a one-time operation) nor do you need an internet connection for realtime data sharing with your Coach. Realtime sharing does of course work between Apps running on different platforms too (e.g. Android in the Boat, iOS for the Coach).