Insights for Better Coaching
Rowing in Motion for Teams is a complete solution for capturing and analyzing rowing performance data that works with any iOS or Android device. The system features easy data capturing and provides live feedback for crews as well as for the coach following behind in the motorboat. All data is recorded and available for analysis and archival in our online tool Analytics.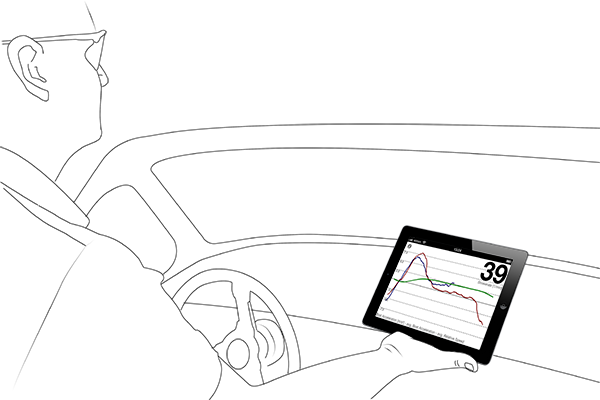 How it Works
A smartphone or tablet in the boat running our App collects data like speed, stroke-rate and boat acceleration using builtin inertial sensors and GPS.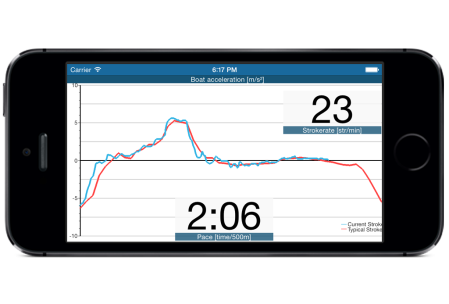 The App features multiple feedback screens with a fully customizable user interface and automatically records all data for later analysis. The Coach following behind in the motorboat receives a live data-feed from the App running in the Boat and can use our App to see exactly the same data as the crew does. Both can chose from multiple screens showing different graphs and metrics (see all Features).
But that's not all of it. Coaches can capture what we call Rowing in Motion Videos – a video automatically synchronizing measurement data from the rowing boat with a video recorded by the Coach.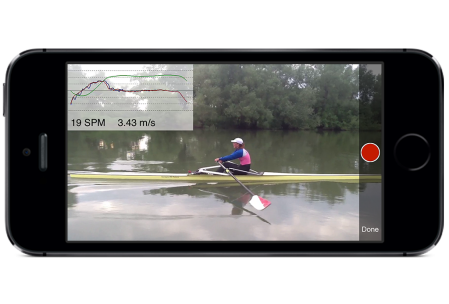 Rowing in Motion Videos are the perfect analysis tool for crew comparison and evaluating different rowing techniques as they provide a direct correlation of cause (athletes motion patterns) and effect (boat acceleration and speed). The Apps communicate configuration-free over a local WiFi network provided by a mobile WiFi Access Point carried in the coaches motorboat or even on the rowing shell.
The Apps for the coach and the crew are always linked to your team's account on "Rowing in Motion Analytics", our online data analysis and archival tool.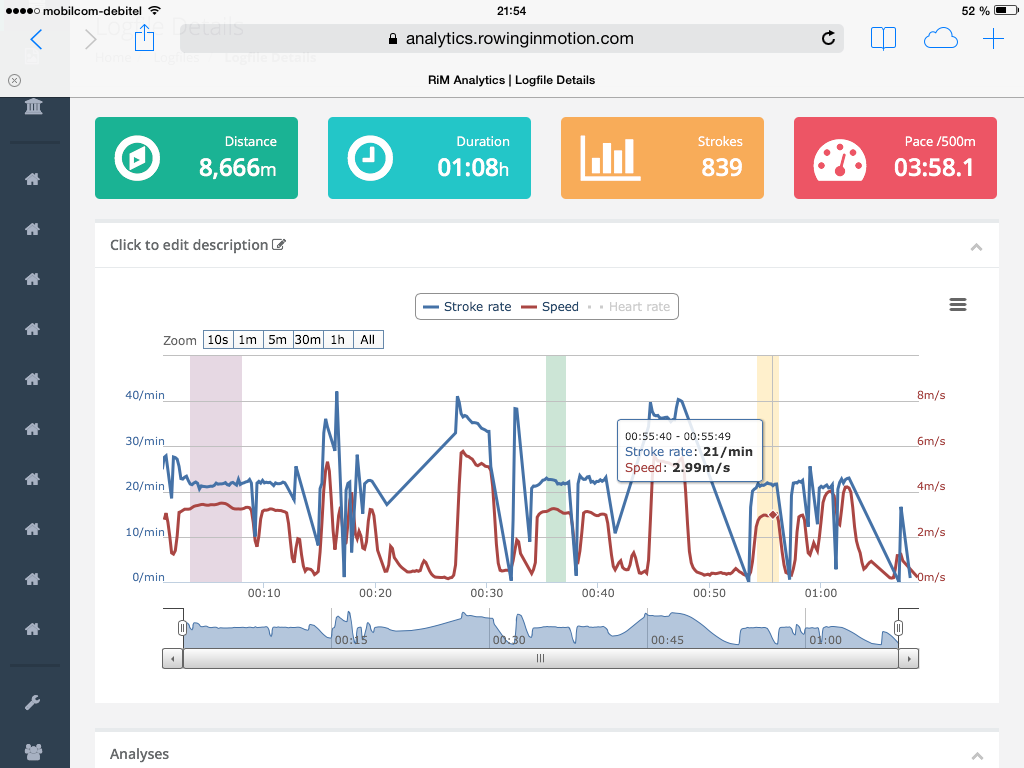 Using Analytics coaches can perform various types of analyses and compare the performance of their crews. The team account is the central place where coaches can manage the Athletes on their team and the devices linked to the team's account.
Getting Started
To use Rowing in Motion with your team all you need is an annual plan for your team's account. Plans start at 249€/y and enable you to link a limited number of boat and coach devices running our App to your team's account. All subscriptions come with unlimited storage and free support. A free 30-day trial is available for every team, simply create your team account and get started immediately.
You will also need some hardware to get started. The choice on the type of devices (smartphone/tablet, Android or iOS) is entirely up to you. We have a list of recommended, waterproof smartphones on our website which you may want to review. Coaches that want to record Rowing in Motion Videos need to use an iOS device. Mixing platforms is not a problem.
You will also need some way to mount the smartphone for the crew to the boat. We recommend using 3M Dual Lock synthetic velcro tape, which you can easily get in any good hardware store. Our mounting guide has some further tips and tricks.
Connection between the Coaches' and Athletes' App is established via a WiFi connection. We recommend using an off-the-shelf mobile Access Points available that operate on a USB-charged battery. Our Connecting to a Boat page has more information about suitable WiFi Access Points, which typically cost less than 100€.