Rowing in Motion App 1.3.0 with Data+Video Analysis for Coaches
Posted on:
April 8, 2014
/
It's finally done – today we have pushed our long anticipated 1.3.0 Update for the Rowing in Motion App which brings the features of the old "Rowing in Motion Coach" App into our new App that is linked to Analytics. That means that you can now record Rowing in Motion Videos in the App too and the App now contains the features of both our old "Boat" and "Coach" Apps.
Which features are available in the App depends on the "role" in which the device has been linked to an Analytics account.  Following our previous model of a "Boat" and "Coach" App the App can be linked to an Analytics Organisation either as a Boat or Coach device. Coach device can only be linked to an Organisation.
Boat devices record sensor data in the rowing boat and can send them via WiFi to a Coach device for live data review and merging with video data recorded by the coach for a data-synchronised video-analysis. We have detailed in our last post how you can link a device to an Organisation.
Recording Rowing in Motion Videos
With an iOS device, Coaches can record a data-synchronised video-analysis by tapping the camera button in the lower right corner of the toolbar. For technical reasons we offer this feature on iOS only at the moment, but we may be able to add it to Android too. When you're interested in seeing this on Android devices too, please help us prioritise this correctly and vote for this feature on our feedback forum.
Now, let us show you how to record a Rowing in Motion Video.
When you tap the camera button, the App opens the camera preview. This view synchronises and merges the video data from the local device camera with the data received from the Boat device live on screen. As usual, you can tap the record button to record a video. The App saves recorded videos to your Camera Roll, where you can analyse them with your favourite video analysis tools.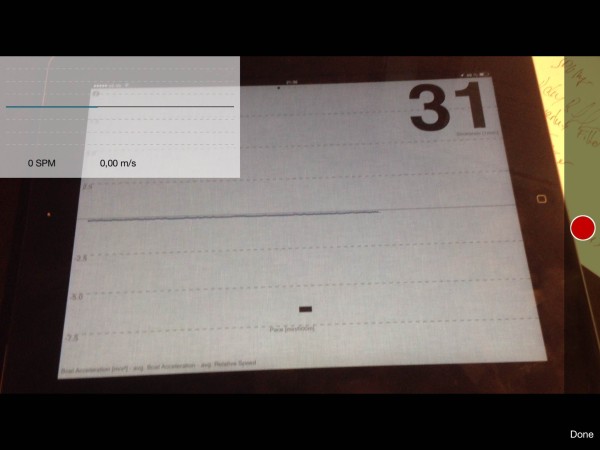 The new coaching features in our "Rowing in Motion App" are fully backwards compatible with data sent by the old "Rowing in Motion Pro" Apps as well as all data sent by Android or iOS devices running the "Rowing in Motion App" – even when the Boat device is an Android device and the Coach device is an iOS device.
The video analysis automatically uses the highest video resolution possible on the respective device (up to 1080p for Full-HD video analysis!!) and records at 30 frames per second.
Coach App Deprecated
With the release of 1.3 we are officially deprecating the "Coach" App and have pulled it from sale on the App Store. We invite everyone who has purchased a Coach App to try Analytics on our "Coach" plan for free for 6 months. Just shoot an email to johannes@rowinginmotion.com when you're interested!