Rowing in Motion App 4.0 – New Home Menu and SensorBox support
Posted on:
December 7, 2015
/
Today we are releasing version 4.0 of the Rowing in Motion for Teams and Solo App. As usual, the update is available immediately for Android Users and will be available for iOS users after Apple has completed their mandatory review procedure.
If you're using live-telemetry, please be aware that this version contains breaking changes in the data format (hence the increase in the major version number). Please ensure all your devices are upgraded to 4.0 or you will not be able to receive live-telemetry due to incompatible versions. The App will display a warning in this case.
Improvements to the Apps
Let me show you some highlights of what's new in Rowing in Motion 4.0.
New Home Menu
We've added a new Home Menu, which provides a much better navigation structure between different parts of the App.
On iOS this is a classic "Tab-Bar" menu and on Android we use the "hamburger" menu that reveals itself on clicking the menu button with three vertical bars in the top-left corner. We use that style of menu in Analytics too.
New Documentation
The App features a new In-App-Guide that explains the basic features of the App and how to use them.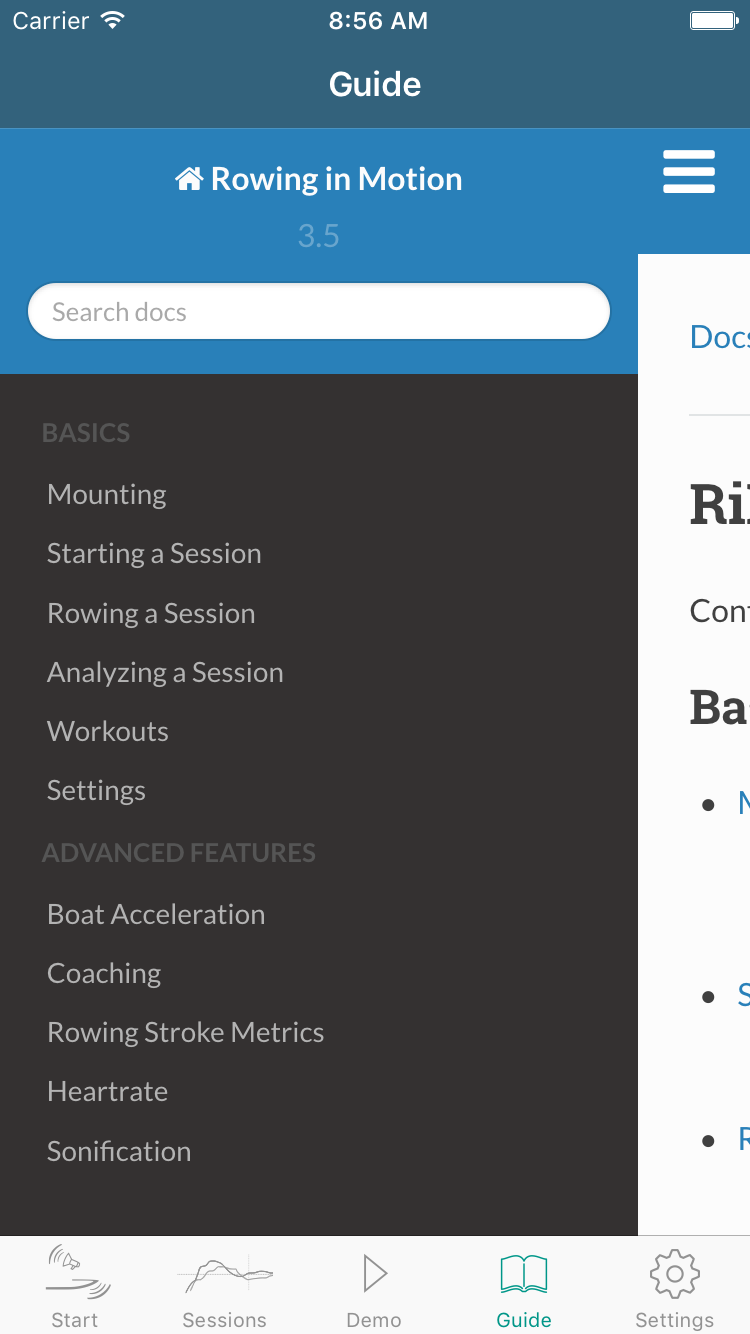 This guide contains all sections relevant to the App from our new documentation portal, which you can find online at http://docs.rowinginmotion.com/. If you haven't yet done so, I suggest you check out the new portal. There is a lot of useful information for using the Apps and Analytics more effectively.
SensorBox Support
This release is the first (non-beta)release of the App that supports our SensorBox hardware. The Rowing in Motion SensorBox is a hardware accessory that contains a 10Hz GPS, high-precision inertial sensors, an Impeller Pickup, WiFi and Bluetooth LE in a fully sealed package with a rechargeable battery.
We have completed a first production run and units are available for purchase to teams in Germany as of right now. We will gradually roll out the product in several stages over the next 10-12 weeks as we acquire the required regulatory approval for other countries and set up logistics. We will make an announcement when we have a firm date for international availability. More news (and product pictures) to follow soon. If you are a team in Germany and interested in buying a SensorBox, please get in touch with me for details (johannes@rowinginmotion.com).
Improvements to Analytics
We have recently added a course-type option to Race Analysis in Analytics. See the announcement here for details.