Rowing in Motion App 3.2
Posted on:
March 12, 2015
/
Improvements to the Apps
Please see the recent Solo App announcement for more details on the new Solo Apps. Unless otherwise noted, all updates apply to both the Team and Solo App for iOS and Android.
This release is available for Android immediately and will be available for iOS after review by Apple (which usually takes 8-10 days).
Changelist
Added support for new disciplines (beta): Canoe, Dragon Boat and Fixed Seat rowing.
Fixed a crash when the internally calculated speed was 0 or negative when you had a pace metric active in the user interface
Fixed a wrong internal configuration that would cause stroke efficiency metrics etc. to disappear prematurely before the next typical stroke was calculated
Android: Fix a crash when resuming the App on the settings page
iOS: Fix a crash when suspending the App on the video view in Coach mode.
Disciplines
If you want to use Rowing in Motion in a Dragon Boat, Canoe or with Fixed Seat rowing (e.g para-rowing, surfboats, large gigs)  this release is for you.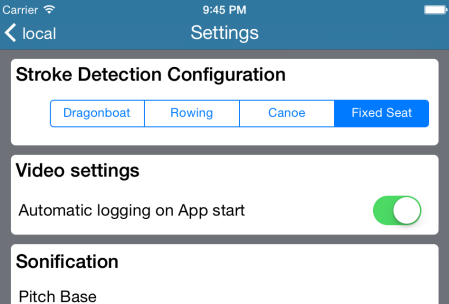 From the settings you can choose your discipline (Rowing is the default of course). Whatever discipline you use, be aware that your correctly mounting your device is always required and that you need to activate "Cox Mode" if you mount the device with the display facing the stern instead of the bow. 
With that said, I want to thank everyone who has provided raw data to us for analysis. The algorithms likely need refinement, so we'd be looking forward to hear from you how it works for you and provide us with additional data for testing and improvement.
Improvements to Analytics
We changed a few technical details about our server infrastructure. This has improved response times across the bank and should feel a bit faster now in most cases.
As always…
We are constantly looking for ways to improve Rowing in Motion. If you have an idea or just want to see what other rowers have suggested we should implement, have a look through our feedback forum and vote for the features you like!