Introducing Rowing in Motion For Teams and Solo
With a new rowing season ahead in the northern hemisphere, we are gearing up for some significant changes in our product lineup. While we are busily working on our upcoming Sensorbox and wireless Sensorgate, we also made some important changes to the Apps and Analytics. Until now we had a single App for Android and iOS that supported two very different user groups: individual athletes and teams. In order to enable us to better adapt features and licensing to the different demands of these groups and to make the product lineup fit well with the newly introduced hardware, we are today introducing the new "Rowing in Motion – Solo" App and rebranding the current Rowing in Motion App as "Rowing in Motion – For Teams".
Rowing in Motion – Solo
The Solo App is intended for individual Athletes that want to use Rowing in Motion to track their rowing sessions and improve their rowing technique by analyzing total boat force using boat acceleration. Together with our online platform Analytics, these Athletes will be able to keep a personal exercise logbook and track improvement of their rowing technique.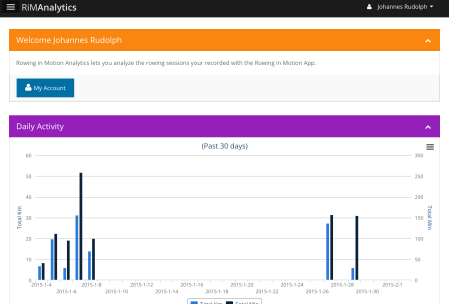 The Solo App is free to download from the App Store and can be unlocked for recording an unlimited number of strokes using an In App Purchase. Accompanying the Solo App, we are making Analytics accounts free to use with a generous amount of online data storage.
Rowing in Motion – For Teams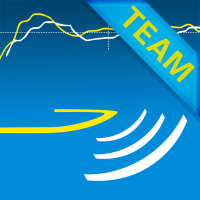 As the name says, the Team App is intended for use in rowing clubs, university and elite teams. Teams create an organisation in Rowing in Motion Analytics to manage their recorded rowing sessions, athletes, coaches and linked devices in a central place. With an organisation, coaches can track and compare the performance of their athletes and share data and analysis with their team. Teams purchase a subscription for the number of boat and coach devices they want to use and can then flexibly use the App on devices owned by the team or devices owned by individual athletes. Team subscriptions are always for a full year (annual) and can be ordered by invoice. They include unlimited data storage and professional consultation on questions of data analysis and interpretation in the package as well as personal support.
Existing Customers
Nothing important will change for existing customers. Read on to find out what's new.
I'm a Subscriber on the "Athlete Pro" Plan
We are very glad you subscribed! You will notice that with the next update, the App name will change from "Rowing in Motion App" to "Rowing in Motion – For Teams" – but besides that, nothing will change for you. You can continue to record, upload, store and analyze an unlimited number of rowing sessions and can consult with us for data analysis any time until your plan expires. We won't offer renewals on the Athlete Pro plan, so after your subscription has expired you can decide to continue using Rowing in Motion with the Solo App. We'd be very happy to see you continue using Rowing in Motion, so you will receive unlimited storage in Analytics as a thank you.
We're an Organisation on the Club or Coach Plan
No changes! Transitioning to the new Team App happens automatically with the next update to version 3.0 published on the App Store and Play Store. You will see some cool new features added to Analytics exclusively for Teams such as athlete management over the coming months.
I have tried Rowing in Motion and want to Upgrade Now
Glad you like Rowing in Motion! When you started using Rowing in Motion in or before February 2015, you will have used the "Rowing in Motion App" that is now the "Rowing in Motion – For Teams" App. When you're an individual Athlete, you should download the new Solo App and can upgrade from within the App using in App Purchase. When you're a team, please review our Plans and Pricing page to sign up your organisation.
1 comment