Rowing in Motion App 2.2.0
Posted on:
November 26, 2014
/
[box]This Release is available for download on Google Play immediately and will be available for iOS sometime later this or next week after review by Apple.[/box]
As we are undertaking the first practical tests of our upcoming wireless sensor gate and high-precision boat speed sensor box, the amount of data that we need to process and display in the app has increased considerably. There are a ton of new metrics and data channels that you may want to display and it became clear to us that we need to make it easy for athletes and coaches to adapt the display to their current needs.
Improvements to the Apps
Configurable User Interface
We gave the user interface a complete overhaul and made it fully configurable. The interface is organised in the proven "pages" that you can scroll through by swiping left and right. Each page has a fixed layout with a set of "slots" for which you can select the data to display.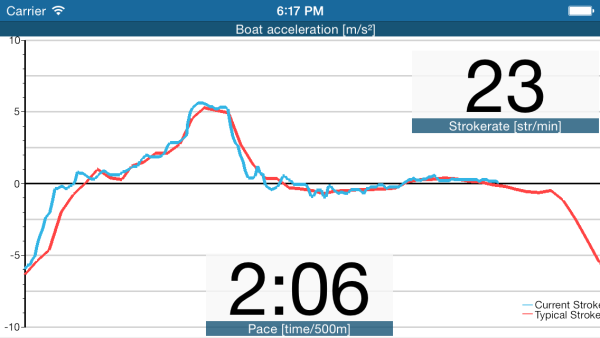 So the page above has three slots, a big one which currently displays the boat acceleration graph and another two slots that currently display pace and stroke rate. You can change the data displayed in a slot by holding your finger on it for about one second.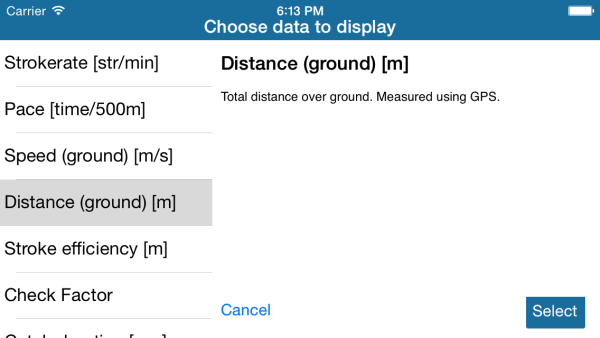 The list shows all the available data that you can place in that location along with a short description. Of course, any customisations you make to the screen layout are saved and automatically restored the next time you open the App.
Changelist
But of course there are also a lot of improvements to the existing App and Analytics.
New configurable user interface!
We improved the system timestamp prevision to 0.1ms
Cosmetic changes to the graphs in the App to make them look even better
Android: Disable screen backlight timeout when on settings screen or guide
Coaches: Fixed the delay between pressing the stop video recording button and actually stopping recording of the video
Coaches: Improve video compression quality
Coaches: Improve stability when losing connection to a boat device and re-establishing it
Android: Fix some view rendering bugs under Android 5.0 aka "Lollipop"
Analytics
We also implemented a number of improvements to Analytics that have already been rolled out over the past couple of weeks. In general, we make new features to Analytics available as soon as they are implemented and tested 🙂
We improved the procedure for linking a device to an organisation. Coaches can now log into their account from the device they wish to add and then select the Organisation and device type.
The status of a subscription order can now be reviewed online
Orders can now be payed via credit card directly, without going through PayPal
Raw data exports now contain a single 100Hz file for all data channels sampled at that frequency (e.g. xyz acceleration)
As always…
We are constantly looking for ways to improve Rowing in Motion. If you have an idea or just want to see what other rowers have suggested we should implement, have a look through our feedback forum and vote for the features you like!